Idlers (deflection wheels) for construction machinery
The idlers we offer are manufactured according to the latest automated design and production processes.
We supply idlers for bulldozers and excavators, which are manufactured according to the latest design and production methods. The idlers from our range have the required quality and are particularly suitable for high continuous loads. For this purpose, special hardening techniques and heat treatments are used in production, which efficiently increase the wear resistance of the running surfaces. This was taken into account because wear resistance plays an essential role in the industrial sector due to the stress on the intervening components.
The sprockets we offer are including all necessary seals, guides, shafts and clamping devices – thus available as a plug and play solution. The reason to this is that we pursue the goal that the downtime of your machine is as low as possible and the effort of assembly is reduced to a minimum.
When manufacturing the idlers, we rely exclusively on high-quality seals and contemporary bearing designs to ensure high durability and reliability. Production is carried out according to current industry standards and meets even the highest requirements. The finished sorocket offers high wear resistance of the running surfaces even under extreme loads.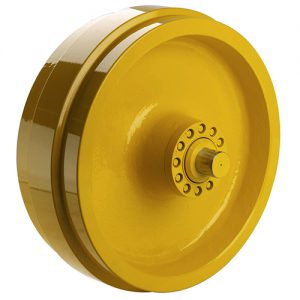 The idlers from our range are suitable for machines and equipment from all well-known brands. These include Airman, Bobcat, Case, Caterpillar, Daewoo-Doosan, Hanix, Hitachi, Hyundai, IHI, JCB, Kobelco, Komatsu, Kubota, Neuson, New Holland, Pel-Job, Samsung, Schaeff, Takeuchi, Terex, Volvo, Yanmar, Zeppelin and many others.
We also supply grease tensioning cylinders, compression springs and other high-quality components. We offer all products in this category at fair prices. Delivery is usually fast, so that the ordered spare parts can be used quickly. If you are looking for the right component for your e.g. Takeuchi, Hitachi, Caterpillar, Komatsu or Yanmar excavator at short notice, you will find it with us.