Sprockets for construction machines
We provide you with sprockets of the highest quality. We provide you with the suitable cast steel sprockets that meet the customer's requirements.
Modern 3D CAD systems and the finite element method were used to develop the sprockets in our range. Areas on the sprockets that are exposed to increased loads in use have been reinforced accordingly.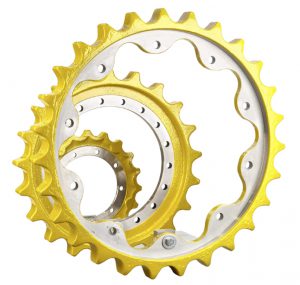 The result is sprockets that stand out due to their high durability and at the same time withstand high loads. To ensure the high quality of the drive wheels, strict quality controls are carried out both during and after production. In conclusion, the changeover with the original drive wheels is guaranteed.
We supply drive wheels for machines of the brands Airman, Bobcat, Case, Caterpillar, Daewoo-Doosan, Hanix, Hitachi, Hyundai, IHI, JCB, Kobelco, Komatsu, Kubota, Neuson, New Holland, Pel-Job, Samsung, Schaeff, Takeuchi, Terex, Volvo, Yanmar, Zeppelin and many more.
Sprocket segments
The sprocket segments in our range are forged from high-strength steel and hardened in a separate processing procedure. This means they can withstand even extreme working conditions for a long time. The sprocket segments are particularly suitable for the industrial sector.